Corrugated beam (SIN-beam)
Corrugated beam (SIN-beam) - I-beam corrugated light beam, is a kind of welded I-beams with a corrugated wall of steel.
The corrugated beam is produced on the robotic production line "ZEMAN BAUELEMENTE Produktionsgesellschaft mbH." (Austria).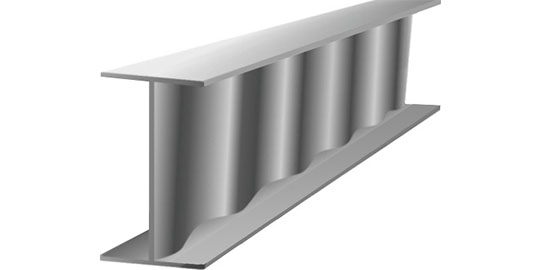 Interested in the production of corrugated beams?
We produce custom-made SIN-beam, as well as other metal structures
Manufacture of corrugated beam (SIN-beam)
Robotic production line
The corrugated wall sheet is connected to the shelves by a continuous one-sided, equidistant weld seam. The welding mode along the length selects a scanning device that takes into account the cutting defects and issues a task for welding heads of robots produced by the company "ABB".
Technical specifications
Corrugated beams are manufactured in accordance with TU U V.2.6-28.1-30653953-007: 2007 "I-beam corrugated light beams".
Dimensions
Corrugated wall:
Height: 333, 500, 625, 750, 1 000, 1 250, 1 500 mm
Thickness: 2.0; 2.5; 3.0 мм
Belts:
min width – 120 mm
max width – 430 mm
min thickness – 4 mm
max thickness – 30 mm
Length of corrugated beams welded on the line:
max – 12 000 mm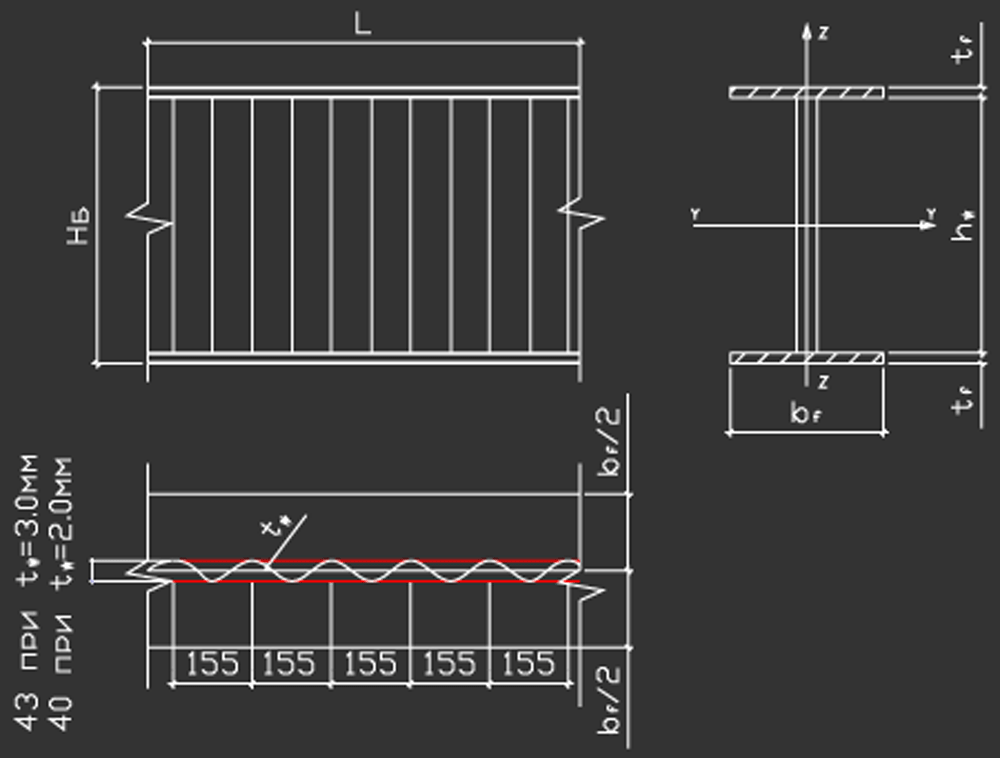 Advantages of using SIN-beams
Profitability
The corrugated beam is extremely cost-effective when used on large spans - its length always corresponds to the data of the individual order, the spans can be up to 80 m long. Corrugated beams can be used as girders, single- and multi-span frames, bridge structures, columns.
High load-bearing capacity
Corrugated beams have the maximum load-bearing capacity at optimum own weight. They combine the advantage of trellis trusses (large spans, light weight) with the advantage of conventional rolled beams (small structural height and high load-bearing capacity).
Reducing the metal capacity of the frame to 15%
The profiled sheet of the beam wall has greater stiffness and resistance to deformation than the usual I-beam wall, and allows to do without additional stiffeners and additional bonds, which makes it possible to reduce the metal content of the building structure.
Design
Thanks to the original appearance, corrugated beams (SIN-beams) can become a characteristic element of design.
Corrugated beam application