Design is carried out by our own design bureau. The project group of the company was trained in the design office "PEM" Austria.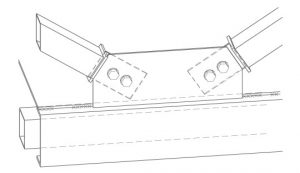 High level of responsibility
We have a license to design objects of the I-level of responsibility - "elevated". All constructions are designed by enlarged blocks in the dimensions of road transport. Mounting units are made on bolts of strength classes 10.9 and 5.8, and also collet bolts for securing minor structures to the foundations. Fasteners - galvanized.
Proven scheme
The constructive solutions of the frame made of metal structures offered by us are made according to the scheme approved on the constructed objects:
taking into account the optimal metal consumption
manufacturing technology of metal structures
simple assembly units on galvanized bolts
beautiful design
use of rolling, bent and curved profiles and corrugated profiles (light-weight welded I-beams with a sinusoidal corrugated wall) according to Spec. ТУ У В.2.6-28.1-30653953-007:2007
minimum amount of work on installation
transportation of structures by road.
Development of project documentation for CM and CMD
Great experience in developing projects and adapting them to technical documentation allows our company to develop design documentation in parts of CM and CMD in parallel with the production of metal structures, thereby shortening the terms of manufacture, delivery and installation of the facility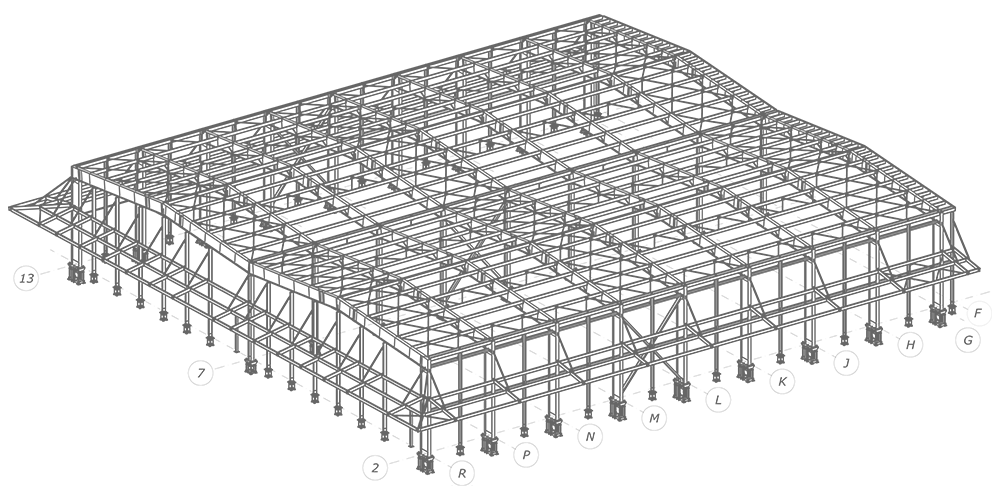 Drawings CM
The CM drawings contain general plans or schemes of important nodes, sections. They produce:
selection of sections;
calculation of structural elements;
development of interfaces;
the possibility of linking the structure with the plumbing, technological, and energy part of the overall project.
In addition, the design of the CM includes the specification of rolled metal for individual structural elements. Drawing CM is the basis for the development of detailed drawings, which serve for the exact manufacture and correct installation of structures.
Production of drawings by our company determines the following guarantees:
the compliance of the detailed drawing with the development of CM;
Determination of design strength of structural elements and their connection points;
economy of metal consumption;
aesthetic appearance of the nodes, frame.
Drawings CMD
Drawings of CMD are the main documents determining the production of structures.
Correctly drawn up drawing makes it possible to pass through production and installation stages with avoidance of errors:
the manufacture of individual parts that make up the design, without the need for additional calculations or the development of sketches;
exact assembly of parts in the structure;
exact execution of the mounting connections.
From the professionalism and literacy of the drawing, many production indicators depend:
product quality;
cost price;
labor productivity;
laboriousness of manufacturing a metal structure.
The development of drawings at the design stage can improve the performance of structural elements, while saving metal rolling and performing assembly work at an accelerated pace.