Profiled sheeting - a coating that, as best suited for industrial construction, the so-called quick-erecting buildings.
Resistant to weather conditions, atmospheric influences, durability, lightness, ease of installation, a wide range of colors and a lack of maintenance costs make the corrugated board indispensable for almost any type of construction and finishing.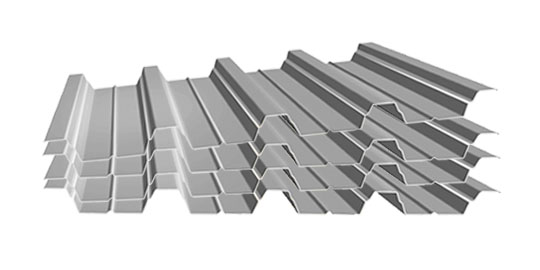 Interested in the production of an profiled sheeting?
We produce custom-made profiled sheeting, as well as other metal structures
Manufacturing of profiled sheeting
Depending on the thickness of the sheet, the height and type of the profile, the material can be given a different degree of rigidity, which makes it possible to apply it in various areas of construction:
«С» - wall (profiling height - up to 20 mm.) - is used, as a rule, for wall sheathing, internal facing works and fences;
«К» - roofing (the height of the corrugation 20-45 mm.) - allows you to build a roof with geometry, in practice, of any complexity;
«Н» - bearing (the height of the corrugation is 45-160 mm.) - is intended for the creation of a continuous bearing base of coatings, for structures of coatings and ceilings of industrial and civil objects.
Our company produces profiled sheeting:
С-2,5, 8, 13, 13П, 14, 15, 18, 21, 25
К-18, 25
КС-40  НС-35  НК-40
Н-57Э, 57, 75, 107, 135
Both from galvanized steel, and from steel with a polymer coating of different color scale according to the RAL system. The thickness of steel lies in the range from 0.45 mm to 1.5 mm, and the length can reach 12 m and is limited only by transport possibilities.